Anna, the Duchess of Bedford, created the afternoon tea in the 19th century in England as a small meal between lunch and a late dinner. In the latter part of this era, the tradition would be adopted by bon vivant Caroline Astor, New York's Grand Dame and social matriarch for the city's most elite residents, to entertain her closest friends at the iconic St. Regis New York.
At the St. Regis San Francisco we value this tradition and invite you to experience our distinct, modern and innovative interpretation of this legacy with locally sourced fare and aromatic teas from around the world.
The Art of Tea is served daily from 2:00pm – 4:00pm.
Available by reservation only. Reservations must be made 24 hours prior and we may accommodate parties up to 4 people. Reservations may be made by contacting the Grill at 415 284 4188.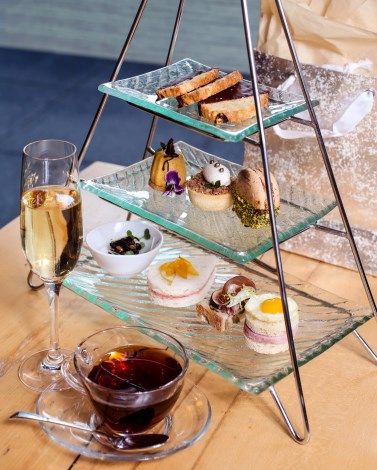 Menu
Art of Tea 69
A global selection of tea along with our handcrafted savory and sweet treats. Each one a work of art.
The Art of Tea for Two 180
St. Regis Art of Tea accompanied by a half bottle of Laurent Perrier Champagne.
The Art of G&Tea 80
St. Regis Art of Tea accompanied by a perfect pour of No.209 Gin. Allow us to awaken your pallet and delight your senses by showcasing the aromatic botanicals of both Gin & Tea in our unique afternoon ritual.
Enhance each Art of Tea experience with one of our favorite Champagnes or sparkling wines by the bottle
Veuve Clicquot 150
Pol Roger 132
Tattinger 115
Savory
Heirloom Tomato Tart
Wagon Wheel Cheddar, Holy Basil, Coriander
Gin Soaked Cucumber Tartine
Pickled Onion, Espellete, Cilantro
Pimento Cheese Biscuit
Asparagus, Bacon, Pea Tendril
Grilled Stone Fruit Salad
Lemon Chili Gastrique, Fuji Apple, Little Gem Lettuce Cup
Sweet
Sharp Cheddar and Jalapeno Corn Bread
Whipped Rooftop Honey Butter
Juniper Spiced Pavlova
Elderflower Curd, Fresh Berries, Mint
Carrot Cake
Dulce de Lece Icing, Candied Bergamot Peel
Watermelon Macaroon
Watermelon Gelee, Dark Chocolate Seeds
Tea Selection
blended by tealeaves
Black Tea
St. Regis Blend
invigorating ~ sweet ~ sherry-like ~ high energy & caffeine
Flowery Earl Grey
uplifting floral notes ~ light in body ~ high energy & caffeine
Organic English Breakfast
elegant ~ refined ~ slightly sweet ~ high energy & caffeine
Thunderbolt Darjeeling
green ~ pungent ~ round ~ brisk ~ high energy & caffeine
Decaf English Breakfast
rich and complex ~ clean ~ medium antioxidants & caffeine-free
Green Tea
Floral Jasmine Green
sweet & lingering ~ high antioxidants & low caffeine
Organic Health & Well Being Green
sweet ~ green ~ fresh and light ~ high antioxidants & low caffeine
Moroccan Mint
fresh ~ clean ~ high antioxidants & low caffeine
HERBAL TEA
Herbal Spiced Chai
sweet & nutty ~ smooth ~ rich ~ high health & caffeine-free
Organic Vanilla Rooibos
sweet ~ soft ~ creamy finish ~ high health & caffeine-free
Organic Chamomile Flowers
soft ~ dusty ~ smooth ~ apple-like ~ high health & caffeine-free
Licorice Spice
earthy ~ naturally sweet ~ warming ~ high health & caffeine-free
Fruit Tea
Mountain Berry
ripe ~ fruity ~ musty ~ full body ~ high health & caffeine-free
White Tea
Organic Emperor's Jasmine
golden blossoms picked before dawn ~ delicate with soft, fused notes ~ high antioxidants & low caffeine