Anna, Duchess of Bedford, created the afternoon tea in the 19th century in England as a small meal between lunch and a late dinner. In the latter part of this era, the tradition would be adopted by Caroline Astor, New York's Grand Dame, to entertain her closest friends at the iconic St. Regis New York.
At the St. Regis San Francisco we value this tradition and invite you to experience our distinct, modern and innovative interpretation of this legacy with local products and teas from around the world.
The Art of Tea is served daily from 2:00pm – 4:00pm.
Available by reservation only. Reservations must be made 24 hours prior and we may accommodate parties up to 4 people. Reservations may be made by contacting the Grill at 415 284 4188.
Lobby Lounge Bar Bites Menu
Lobby Lounge Bar Menu
Lobby Lounge Lunch Menu
Lobby Lounge Late Night Menu

The Art of Tea Fall Menu
Nutcracker Afternoon Tea Menu*
*The holiday Nutcracker Afternoon Tea Menu is available Nov. 24 - Dec. 30, 2017, except Christmas Day, December 25. Tea service will be available from 2:00pm - 5:00pm. Learn more.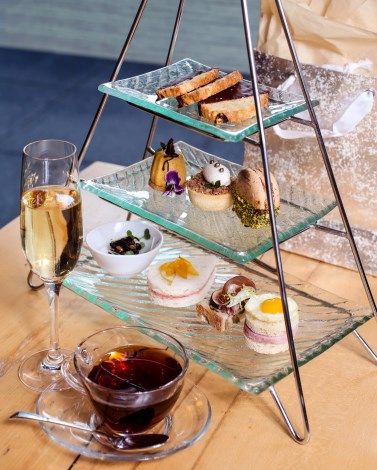 Menu
The Art of Tea 65
The Art of Tea for Two 170
St. Regis tea accompanied by a half bottle of Laurent Perrier
The Art of Tea with Bubbles 80
St. Regis tea accompanied by a glass of Schramsberg sparkling
Featured Champagne & Sparkling
Veuve Clicquot 150
Laurent Perrier 135
Schramsberg 115
Savory
Cauliflower Royale
Black Currants, Pine Nuts, Raspberry Gastrique
Croque Madame
Cured Ham, Truffle Cheddar Cheese, Fried Quail Egg
Fig & Prosciutto
Gorgonzola Dolce, Aged Balsamic
Rose Jam Pan de Mie
Fruit Mustard, St. Regis Rooftop Honey
Sweet
Ginger Macaroon
White Chocolate, Chai Ganache
Pumpkin Tower
Pecan, Shortbread, Pumpkin Mousse
Apple-Pear Tart
Dulce de Leche Pastry Cream, Spiced Crumble, Chantilly
Black Mission Fig Scones
Tea Selection
blended by tealeaves
Black Tea
Organic English Breakfast
elegant ~ refined ~ slightly sweet ~ high energy & caffeine
Thunderbolt Darjeeling
green ~ pungent ~ round ~ brisk ~ high energy & caffeine
Flowery Earl Grey
uplifting floral notes ~ light in body ~ brisk ~ high energy & caffeine
St. Regis Blend
invigorating ~ sweet ~ sherry-like ~ high energy & caffeine
Decaf English Breakfast
rich and complex ~ clean ~ medium antioxidants & caffeine-free
HERBAL TEA
Licorice Spice
earthy ~ naturally sweet ~ warming ~ high health & caffeine-free
Herbal Spiced Chai
sweet ~ nutty ~ smooth ~ rich ~ high health & caffeine-free
Organic Vanilla Rooibos
sweet ~ soft ~ creamy finish ~ high health & caffeine-free
Organic Chamomile Flowers
soft ~ dusty ~ smooth ~ apple-like ~ high health & caffeine-free
Green Tea
Apple Pie
succulent apples ~ warm ~ high antioxidants & low caffeine
Organic Health & Well Being Green
sweet ~ green ~ fresh and light ~ high antioxidants & low caffeine
Cherry Blossom Green Tea
mildly grassy, notes of hay with a cherry finish & low caffeine
White Tea
White Peony
golden ~ bright ~ delicate ~ high antioxidants & low caffeine
Fruit Tea
Mountain Berry
ripe ~ fruity ~ musty ~ full body ~ high health & caffeine-free